Josh Angst Fanfiction!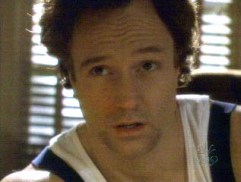 Welcome to the Josh Lyman angst fanfiction section! If you would like to submit a piece of work then please email colakid197@hotmail.com with your user name, and either the fanfic itself or a link to where we can find it. Please note that this is a new fandom, and i am in the process of building it, so keep checking back, and there will be updates shortly!
I am currently looking for somebody to take over this archive, if you are interested (html knowledge would help) please contact me on sparkycola@hotmail.com. Thanks :)
Disclaimer- The following fanfiction is the property of the author however the characters and world of Andromeda belong to tribune entertainment unless stated otherwise, i.e. original characters.
---
News and Recently Added/Updated-
18/11/04 - 'A Year Ago Today' by Mcgirl added
31/10/04 - 'Shadows of the Past and Present' and 'Polar Opposites' by Mcgirl added
14/10/04 - Meggie added along with 'Shellfish' and 'In the Light of a Family's Love'
14/10/04 - mdime added along with 'Meditation', 'On This Day', 'Chaos Theory' and 'Not Forgotten'
12/09/04 - jaxzwolf added along with 'Breathing'
NEWS - I am looking for someone to take over this archive!

---
Catgurl83
Confessions - Josh finds out a secret that could destroy his life. This is the sequel to Why I Don't Believe in God. Josh/Mallory R rated.
CrimsonRose1
Back Into Oblivion - What would happen if another traumatic event pushed Josh over the edge? JD, JS friendship. PG-13 rated.Spoilers: Just to be safe, letís say all the seasons, but especially ITSOTG (I & II), Noel, and Disaster Relief
Cynthia Arrow
Going into the Storm - In the aftermath of the resignation, Josh needs rescuing. (This story is not nearly as melodramatic as my description sounds.) PG-13 rated.
In Pieces - Josh talks to God about Donna...some time BEFORE the cliffhanger. PG rated.
jaxzwolf &gte-mail&lt
Breathing - A missing scene from ITSOTG- Sam's POV, If I get enough good reviews I'll continue with other staffer's POV's. PG rated.
Lexi Lyman
Consequences of Losing a Democrat - Josh is having issues with PTSD even years after the shooting, though he doesnt know right away. Stanley returns for a while! (5th season) Chapter 8!. PG rated.
Mcgirl
A Year Ago Today - Its been one year since Rosslyn and one year since Josh had been shot. This is not a story where he is dead but this is alternate universe. PG-13 rated.
Deception - Josh is having nightmares and he is not himself lately. Everyone is trying to help but he want let them help. This is formerly known as Hiding the Truth. PG-13 rated.
I Didn't Wonder - In Noel Josh saids that "he didn't wonder" about commiting suicide. I always wanted to know his answer. Please read and review PG-13 rated.
Why Do I Survive - Josh is eight years old and this takes place after the fire and might go into him as a adult. This is his reaction to it. He might have some signs of PTSD in it. PG-13 rated.
Polar Opposites - Why did Ainsley leave Washington D.C. This explains it but is fourteen years later. PG-13 rated.
Shadows of the Past and Present - Josh and Abbey do something that has lasting impacts for years to come. PG rated.
mdime
Meditation - Waiting... R rated.
On This Day - Leo is having some problems with his deputy - 5 parts R rated.
Chaos Theory - Summary: A late night, a brooding Toby, an examination of faults. (ten days post-Rosslyn) PG-13 rated. Spoilers: In the Shadow of Two Gunmen, The Midterms
Not Forgotten - You donít have to be certain to be right, and you donít have to know someone for them to touch your life. R rated. Spoilers: Noel
Megfly
Bear His Burdens - JD friendship with some UST from both sides. JoshDonna alternating POV, angst, death, and I do mean ANGST. PG-13 rated. Spoilers through ďMemorial DayĒ
Meggie
Shellfish - Post ITSOTG angst G rated.
In the Light of a Family's Love - A multiple-POV of the Staff, set in the moments after the first scene of "ITSOTG." PG rated.
Samsgurl23 and MandyLouise
The Missing - West Wing/Alias crossover. Josh is missing for 2 yrs. :) PG rated.
&lt ~ external links used ~ &gt